April is Earth Month, and we at LG Howard and Company are so excited to celebrate!
Earth Month began as Earth Day back in April 22, 1970, when junior Senator Gaylord Nelson witnessed the effects of a massive oil spill that took place in Santa Barbara, California. Senator Nelson, who was working with congressman Pete McCloskey, recruited a young activist named Denis Hayes to spearhead a teach-in about concerns for the environment. As a result of the teach-in, Hayes longed to bring about the same passion that lived in him across the United States. His efforts to teach millions across our nation inspired our government and by the end of 1970, the United States Environmental Protection Agency and multiple brand new laws were put into effect in an effort to educate and raise awareness of the consequences of our actions on the world around us.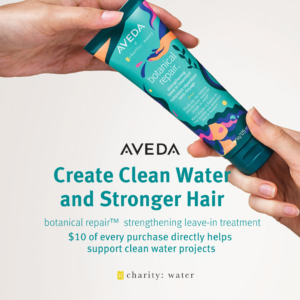 53 years later, Aveda is committed to putting our planet first. This Earth Month, the Botanical Repair Strengthening Leave-In Treatment is the star of the show. The Botanical Repair Strengthening Leave-In Treatment is a must have product for all hair types and textures, providing instant repair to dry and/or chemically treated hair. It has UV protection as well as heat tool protection up to 450 degrees. This leave-in treatment penetrates the hair strands deep beneath the surface and rebuilds the bonds from the inside out, leaving you with a change in your hair that you can feel after the first use! This month, the product is packaged in 100% recycled, ocean-bound plastic and you will get 25% more product per container. On top of that, $10 of each bottle will be donated to Charity:Water. This amazing non-profit organization provides drinkable water to people living in developing nations, and we are honored to partner with them!
There's one more way you can participate with us! We will be doing an in-salon fundraiser that adds a little bit of fun to our fashion. For a donation of $5, you can sponsor the stylist of your choice to wear blue jeans for a day, or you can donate $25 for the entire staff to wear blue jeans for a day. 100% of proceeds made in-salon will be donated to Healthy Gulf, and we are ecstatic to help do our part. 

Earthday.org. "The History of Earth Day." https://www.earthday.org/history/.